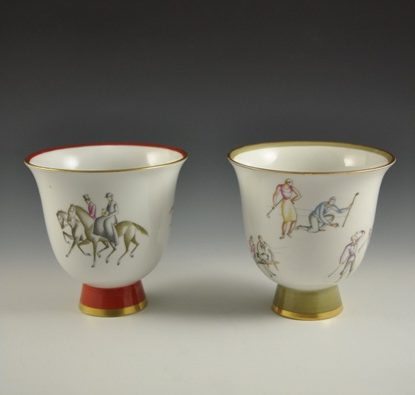 VASES BY GIO PONTI FOR RICHARD GINORI
Florence
1937
H: 14cm   W: 13.5cm   D: 13.5 cm
"Equestrian games" and "Golf" vases: a rare pair of porcelain vases by Giò Ponti for Richard Ginori.
Giò Ponti, the world famous Italian architect, started his work at the Richard Ginori factory, where as the artistic director from the 1920s to 1930s he changed the whole style and way of thinking of the period, making his production one of the most original and futuristic Italian art déco innovation.
Today his pieces are sought after all over the world and form part of the major collections of high quality ceramics.
Raffaello Pernici
Via Rino Pachetti 24/D
57015 Rosignano S. (LI)
Italy
+39 3487 745998
[email protected]
www.pernici.eu
Save