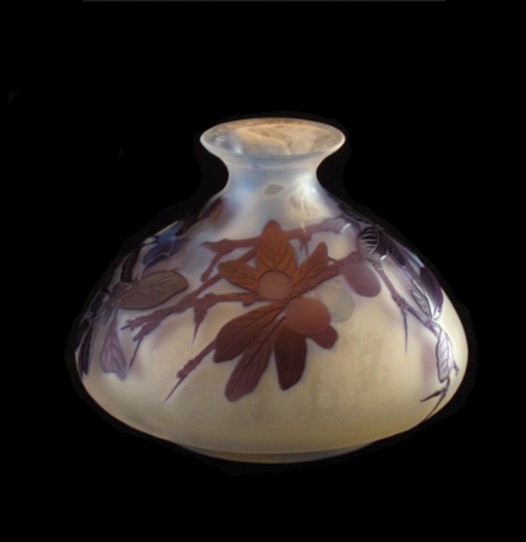 Emile Gallé 'Prunelles' Vase
French
c.1900
H: approx. 11cm
£2,150
An Art Nouveau two colour cameo glass vase decorated with Prunelles flowers, leaves and fruit by Emile Gallé (1846 – 1904), of unusual shape and employing pretty colours. Signed in cameo 'Gallé'.
Born in Nancy, after several apprenticeships in various European cities Gallé became a partner at his father's glass and faience decoration business in 1867. Ten years later, he took over the family business and extended its activities to cabinet making in 1885. Previously acknowledged at the Clay and Glass Exposition in 1884, Gallé was honored at the 1889 Paris World Fair with three rewards for his ceramics, glasswork, and furniture. Unfortunately, and to his great regret, ceramic work was no longer popular amongst the public, thus he oriented his focus to glasswork, a domain in which he developed and created new fabrication procedures. His research lead to the registration of two patents in 1898, one of which concerned glass marquetry and the other on glass finish.
His work expresses throughout multiple references his diverse interests, in which nature plays a dominant, but not exlusive, role.
Solo Antiques
By appointment
Preston
Lancashire
+44 (0)1995 671096
+44 (0)7973 119739
[email protected]
www.solo-antiques.co.uk