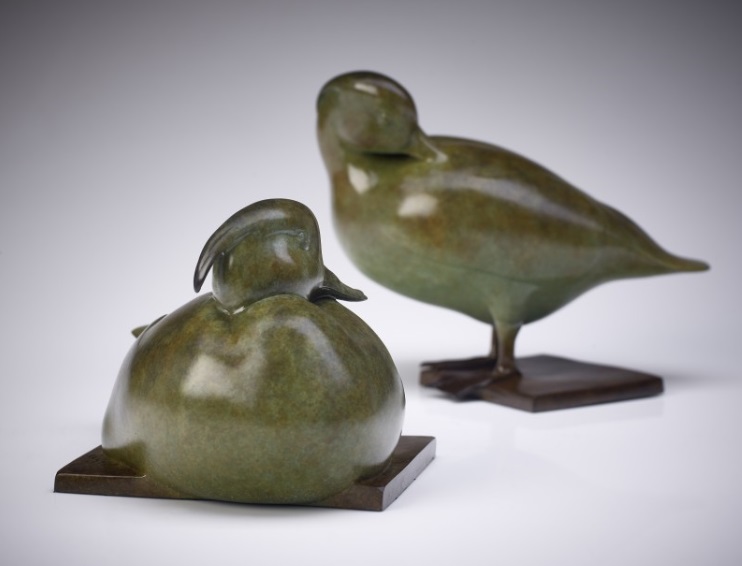 Jonathan Knight, 'Tufted Ducks'
England
Bronze
Edition of 12
Signed and numbered
Jonathan grew up in London, where he was born in 1954. Following his first one-man exhibition, "The Racehorse", in London in 1987, his studio bronzes became increasingly in demand internationally. At the same time he was also engaged on several public commissions. His sculpture of the fantastic "Dawn Run" at Cheltenham racecourse and of "Music Boy" at Cheveley Park Stud in Newmarket are perfect examples of the artist's potential in that field.
Jonathan lived in the country and an appreciation of nature was perhaps the shift of focus to the study of animals and birds, observation of form and movement – the quest to capture the essential spirit of the animal which sets his work apart from the majority of "wildlife art" – fluid, tactile images with warmth and soul; the characteristic life spark of animals and birds captured and held in bronze. They are unsentimental, yet breathe emotion.
From an edition of twelve, this pair is unique by virtue of the originality of its patination. Through the potentially destructive forces of fire and acid, Jonathan produces a patination which invigorates the bronzes with warmth and energy.
Unsurprisingly, Jonathan Knight's work now features in private collections throughout the world – notably in that of H.M. The Queen of England, who chose a pair of curlews for her private collection.
Rowles Fine Art
53 Mill Street
Ludlow
Shropshire
SY8 1BB
+44 (0)1584 872123
+44 (0)7836 348688
[email protected]
www.rowlesfineart.co.uk
Rowles Fine Art will be exhibiting at The Pavilions of Harrogate Decorative, Antiques & Art Fair, 17 – 19 November.