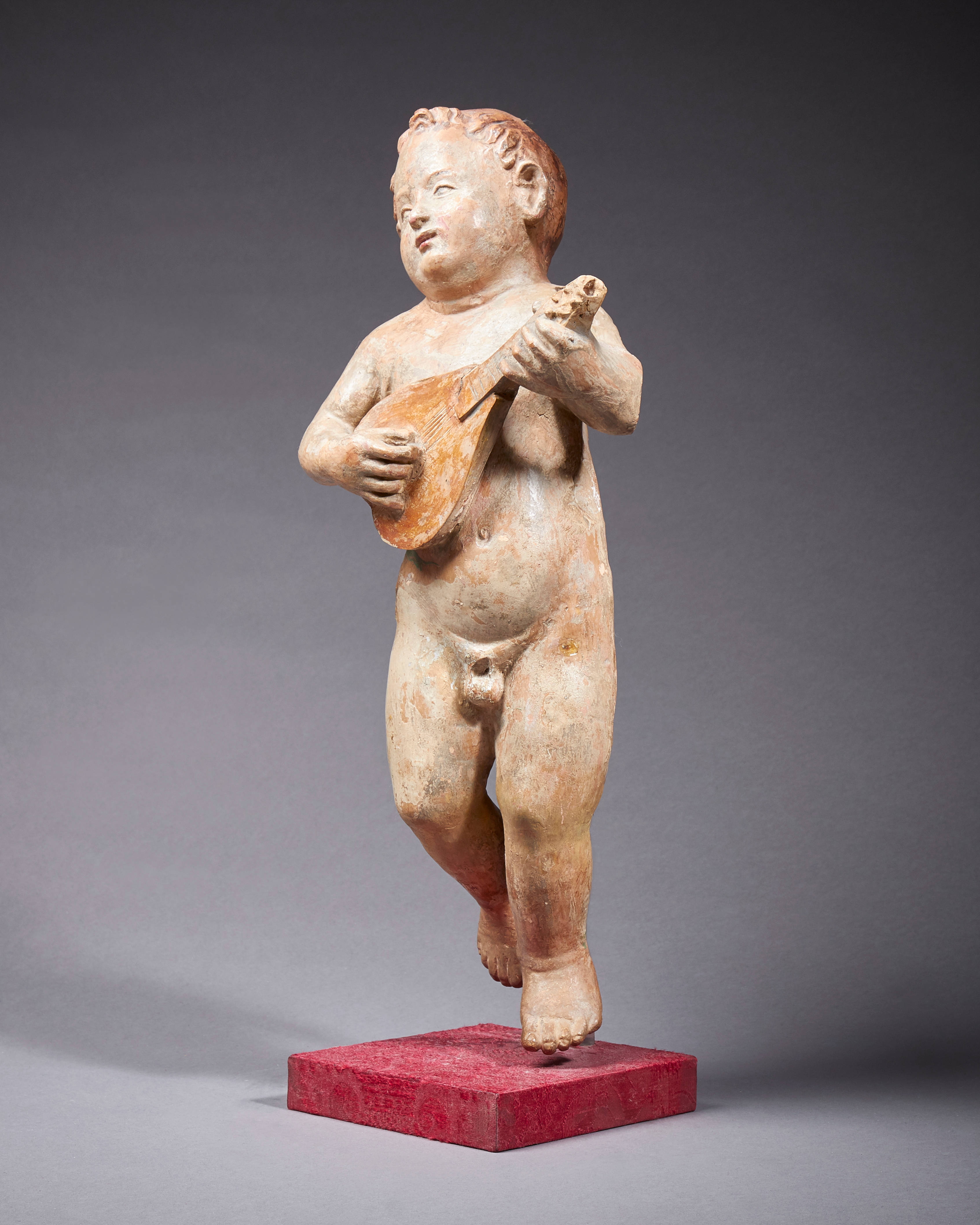 A Renaissance Putto Playing the Flute
Italian, first half 16th century
Possibly workshop of Giovanni della Robbia (Florence 1469-1529)
Painted terracotta
The figure 47.5cm;  52cm overall
£6,500
This painted terracotta figure of a naked boy or putto playing a lute is typical of Florentine Renaissance sculpture in both subject matter and material. The contraposto stance of the present figure is characteristic of Florentine sculptors' attention to classical form, based on the study of antique statuary.
The figure probably belonged to a larger sculptural ensemble or architectural monument, evinced by the holes on the reverse, which possibly acted as struts for placement, or where wings were inserted. Furthermore, the figure is largely unfinished at the back and top of the head, suggesting that it was intended to be seen from below, placed atop a sculptural monument; such positioning of similar figures is fairly common in Florentine works of the period, including Andrea della Robbia's Ciborio for the Sacred Host (c.1490-95).
The figure is comparable in both subject and date to Giovanni della Robbia's figure of a putto playing a lute in his altarpiece of the Sant' Anna presenta l'Immacolata (c.1517) in the convent of San Lucchese a Poggibonsi. Giovanni's figure plays a very similar type of lute, as well as having the same fleshy anatomical modelling. Other figures of putti playing musical instruments are relatively common in works attributed to Giovanni and his workshop.
The della Robbia family is famous for its production of glazed terracottas, pioneered in the mid-15th century by Luca della Robbia (1400-1482). The della Robbia workshop was prolific and continued to operate into the mid-16th century, also moulding works in unglazed terracotta, often painted in oils. This painted terracotta figure, therefore, may have originated in the della Robbia workshop, as part of a larger sculptural project, which was later dismantled.
Arthistorical Ltd
By appointment
London, W1
+44 (0)7768 395500
[email protected]
www.arthistorical.com