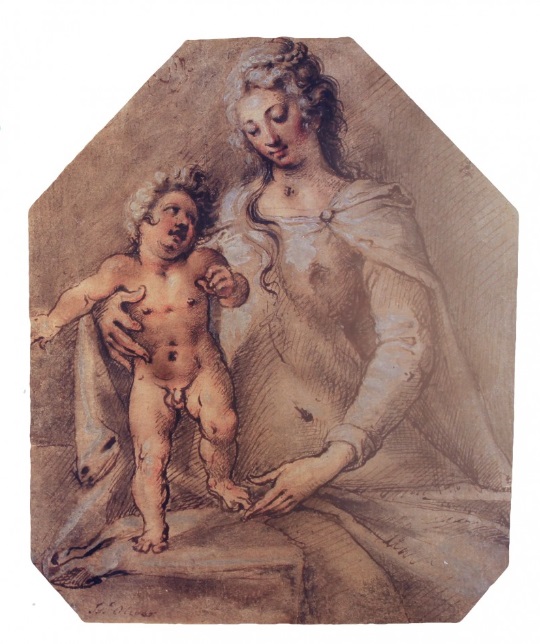 ISAAC OLIVER, 'MADONNA AND CHILD'
c. 1600
Pen and brown ink and watercolour over pencil, heightened with white on laid paper, corners cut, framed in a modern gilded frame
Signed on the obverse, left hand side, Is. Oliver
£17,500
This drawing was probably executed between 1597 and 1605 after Oliver's first visit to Italy and before he was made painter for the Art of Limning to Queen Anne of Denmark, wife of James I. It is related to a series of Al antica female mythological figures, which includes Diana (B.M.G. 360), both in subject matter and in its treatment. The use of pen and brown ink is typical of the drawings by Oliver executed after this first continental journey but this use of wash is rare at this date, becoming more common later. The style reflects the influence of artists working in the Courts of Fontainebleau and Prague, a style also found in the group of miniature portraits executed around 1600 which includes the portrait of Francis Howard, now in the V&A. In this group the figures are executed in grisaille and are very sculptural in form.
Oliver was apprenticed to Nicholas Hilliard, but his knowledge of contemporary Netherlandish art suggests that he also studied in the Low Countries.
Provenance: Sotheby's 25 November, 2004, lot 117.