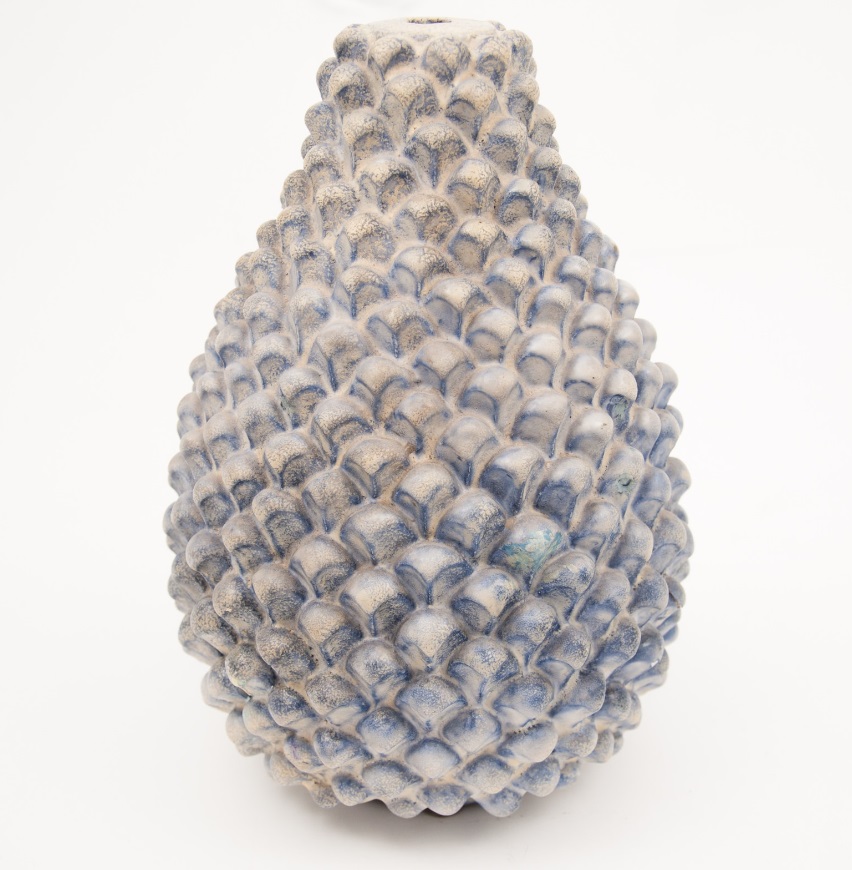 A Lamp Base by Marcello Fantoni
Florence, Italy
c. 1950-1960
H: 25cm   Diameter: 15cm
£3,200
A fine studio-made pinecone lamp base in stoneware with a delicate pale blue glaze by Marcello Fantoni (1915-2011).
Born in Florence, Marcello Fantoni studied ceramics at the Institute of Art at Porta Romana from 1927, graduating in 1934 as a 'maestro' of art. In 1936 he established the Fantoni Ceramic studio.
His works can be seen at the Metropolitan Museum of Art of New York, the Brooklyn Museum, the Museum of Fine Art of Boston, the Currier Gallery and the Syracuse Museum. In Britain they are in the Victoria and Albert Museum of London, the City Art Gallery of Manchester, at Royal Scottish Museum of Edinburgh. In Japan they are present at the Museum of Modern Art of Tokyo and Kyoto. In Italy they are represented at the International Museum of Ceramics in Faenza, the National Bargello Museum and at the Gabinetto Disegni e Stampe of the Uffizi.
In 1970 he founded the International School of Ceramic Arts at his laboratory in via Bolognese in Florence where he continued to work and teach until his passing in 2011.
Provenance: purchased from Fantoni's studio in Florence. Signed underneath.
If required, this piece can be wired for electricity at no extra charge.
3details
Lorfords Antiques Tetbury,
Oxfordshire
The Blanchard Collective – Froxfield,
Wiltshire
+44 (0)7900 688330
[email protected]
www.3details.com