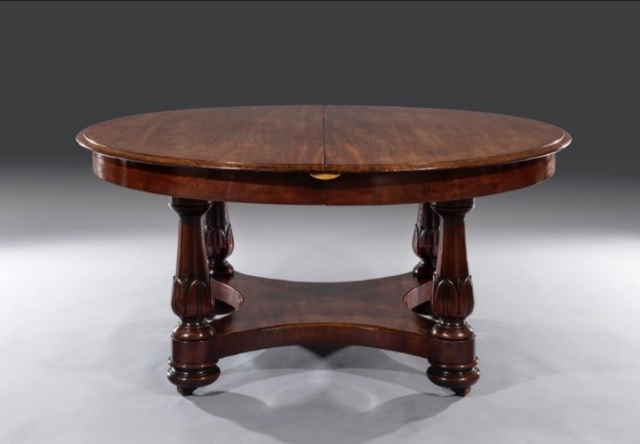 Object of the Week – A Rare William IV Mahogany Centre Pedestal Extending Dining Table
c.1835
H: 75cm;   W: 145cm;   D: 145cm
£18,000
This dining table is rare in its design and form and carries the maker's stamp of M.Willson, stamped twice on the superstructure. The colour, patination and figure to the top is superb and quite untouched: indeed, it is probably in its original condition.
The dining table when fully extended will seat 14 people but when closed, it is circular and will comfortably seat 8 people. The table is supported on four solid carved mahogany supports that stand on a large concave mahogany veneered plinth base with four large carved concealed wooden castors. A telescopic action, constructed in oak, allows the table to extend outwards, allowing space for one or two of the original leaves to be inserted.
T. & M. Willson: Thomas Willson is entered in directories as a furniture broker and appraiser of 68 Great Queen Street between 1821 and 1829. From 1830-37 the Great Queen Street business was continued by Mary Willson & Son. After 1838 it is listed at the same address as Matthew Wilson, furniture warehouse, furniture work, upholsterer, until 1854.
Only one piece of furniture with Willson's label has so far been traced. It states that the firm was established in 1818 and indicates that, contrary to popular belief, he was a cabinet-maker as well as a furniture broker: 'THOMAS WILLSON, / Cabinet Maker, Upholsterer, &c / 68, GREAT QUEEN STREET, / Lincoln's Inn Fields, London. / Every article of Furniture for the Drawing, / Dining, Bed Room and Library, / of first-class make. / Established 1818'. This important fresh evidence suggests the firm's name-stamped furniture can be divided into second-hand pieces which were merely retailed and items made in their own workshop for sale. The half dozen or so articles impressed 'M. Willson' (by his widow Mary or son Matthew) seem, with one exception, to date from the 1830s.
Walton House Antiques
The Walton Building
The Square
Mere
Wiltshire
BA12 6DL
+44 (0)1747 860050
[email protected]
www.waltonhouseantiques.co.uk