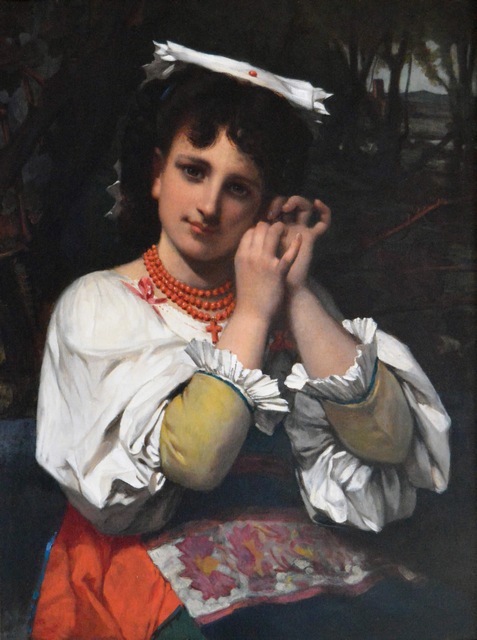 Object of the Week – Pierre Louis Joseph De Coninck, 'The Coral Necklace'
Oil on canvas, signed
c.1880
H: 31″   W: 23″
£7,900
Pierre Louis Joseph De Coninck (1828 – 1910) was born in Méteren, Northern France and initially studied at the Ypres and Lille schools of Art before entering the Ecole des Beaux-Arts, Paris in 1851 under the direction of Leon Cogniet (1794-1880) who influenced his work. He exhibited at the Paris Salon from 1857 and also exhibited at the 1864 Exhibition held at the Palais des Champs-Elysées in Paris. He won a number of prizes including 2nd prize at the Prix de Rome in 1855 and 3rd prize in 1852, 1853, 1856 & 1858. He also won medals at the Paris Salon in 1866 and 1868.
De Coninck specialised in genre and historical scenes often with young women. He spent time in Naples with the composer Bizet and whilst in Italy produced a number of paintings featuring Italian beauties as in this fine example.
Examples of his work can be found in galleries and museums including Smithsonian American Art Museum; Dunkirk Museum; Metropolitan Museum,
New York; Lille Museum; Niort Museum.
Benton Fine Art
By appointment
Regent House
High Street
Moreton-in-Marsh
Gloucestershire GL56 0AX