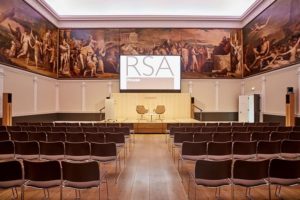 Book your ticket to the LAPADA Conference 2020
We are delighted to announce that the annual LAPADA Conference will be held on Tuesday March 3rd, 2020 from 10:00am – 5:00pm at a stunning new venue, the RSA House in central London. The day will be full of practical, inspiring information to help your business thrive in 2020.
The programme's theme is 'Opportunity Knocks', as the event will focus on helping the trade to reach new markets as well retain business by looking for the opportunities rather than being hampered by 'red tape'! We already have some incredible speakers lined up and are particularly looking forward to welcoming Dr Xavier Bray, Director of The Wallace Collection, as our keynote speaker.
Speakers for this year's event include:
Dr Xavier Bray, Director, The Wallace Collection
Edward Bulmer, Director, Edward Bulmer Interior Design
Ben Mason, Director, The Tom Sawyer Effect
Full programme to be announced shortly
The ticket price for members is only £125+ VAT, which includes coffee & refreshments on arrival, a delicious lunch and networking drinks in the afternoon. Tickets for members of CINOA, BAMF, AWAD, PAIAM, Women in the Arts, Antiques Young Guns, The Worshipful Company of Art Scholars, and alumni of Christie's Education, Sotheby's Institute of Art, and The Courtauld Institute of Art can be purchased for £135.00, and for non-members, £155.
Tickets are now on sale and can be purchased online or by calling the LAPADA Office on +44 (0)207 823 3511 – members book before January for an early bird reduced rate of £110+VAT!