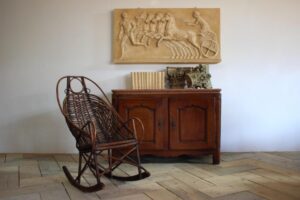 With so much more time spent at home lately, squeezing our offices into our living rooms and even accommodating children's pop-up classrooms, many of us have turned our attention to home improvements – whether that be a spot of DIY or a full edit of our décor and the art, furniture and decorative arts that make our house a home.  For many, that has meant an increase of shopping online for art & antiques during Covid-19. And one thing is for certain, no matter the style or period, a home isn't a home until you have some art on the walls, furniture to sit at and objects to admire.
Online sales had stalled a little in the art market but 2020 now looks set to be a pivotal year and one small opportunity that has arisen from the Covid-19 pandemic is the hyper-acceleration of art and antiques moving online. Auction houses, retailers, art and antiques galleries have all opened more avenues for online shopping than ever before. While you may not be able to go to art and antiques fairs and shops or galleries these interactive websites facilitate a virtual shopping experience that's almost as good as conducting the sale face to face. To have confidence when shopping online during Covid-19, it is a good idea to stick with dealers who belong to a trade association such as LAPADA, BADA, CINOA or SLAD as they will have had to go through a stringent vetting process before becoming members.
Alongside this drive for retailers to make their stock appealing, easy to view and ultimately buy is a desire to maintain a sense of community in what is normally a very sociable world. The pandemic has hit pause on gallery previews and the usual circus of glamorous art fair openings. But do not despair, galleries are offering bespoke viewings and there is plethora of online viewing rooms, webinars and organised chat rooms to keep you in touch with fellow collectors – all from the comfort of your own home!
Photo from LAPADA member Brownrigg.