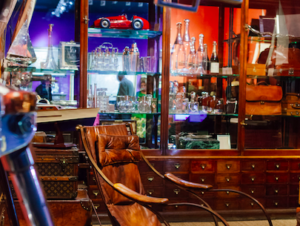 One of my favourite categories of the rich and varied objets d'arts proffered by our members are the gadgets and gizmos that for want of a better word are often referred to as 'toys for the boys'. Outdated and sexist? Possibly, as they are certainly as appealing to me as to anyone of the opposite sex. Think glamorous and luxurious travel of the 1920's and 30's or go further back to the 18th century Napoleonic wars – these things show ingenuity of design as well as aesthetic promise ensuring there is the perfect balance between function and form.  Taste influencers and authors such as Nick Foulkes and Stephen Bayley have devoted acres of column inches waxing lyrical on everything from watches to cigar cases, corkscrews to campaign furniture (portable and flatpack long before the advent of Ikea) and so much more.  
Tis' the season for shopping so if you want to buy something that oozes style, is original and tells a story then this collecting category is a great place to start from. Those after a smoke or a tipple might be tempted by this leather cigar case or this hip flask. 
People pining for those far flung destinations as holiday after holiday have been postponed could take solace in this lovely compass, silver plane or model speedboat.
And finally, when we do get back to our normal routines, these treasures will make the daily commute a little more bearable!  -  a leather briefcase and portable games board.
Watch our recent LAPADA Leaders webinar with dealers Allan Hatchwell (Hatchwell's Antiques), Tim Bent (Bentleys London) and Sean Clarke (Christopher Clarke Antiques) to learn more about this rich treasure ground of collecting … 
By Freya Simms, LAPADA CEO