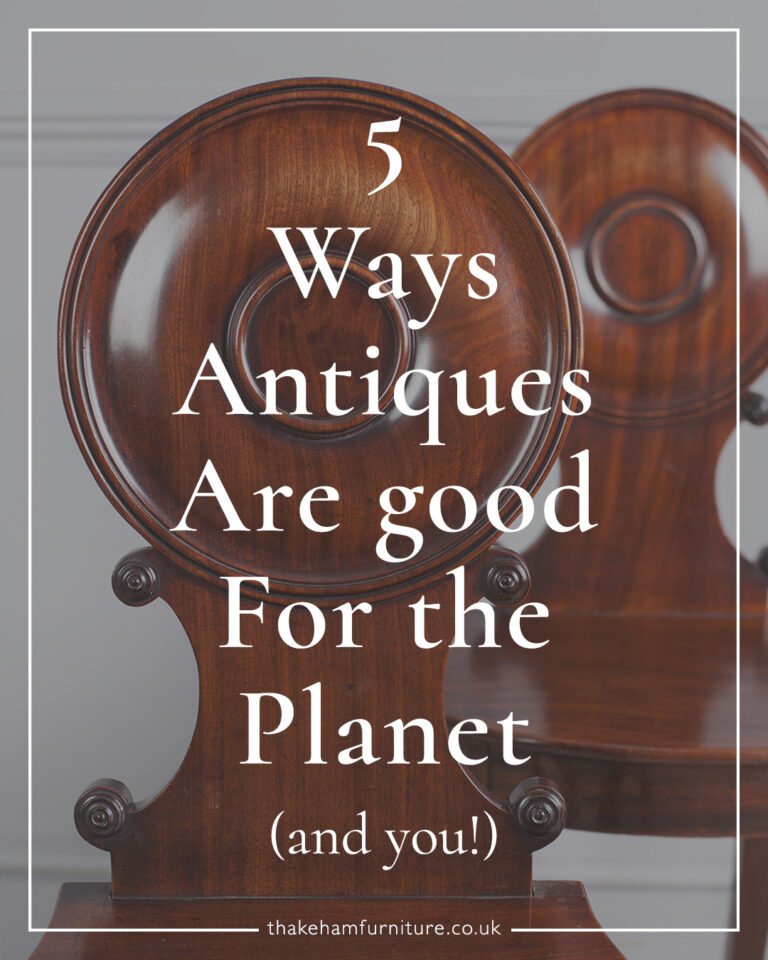 We love antiques for the character and style they bring to our homes, but have you considered how antiques are good for the planet as well? Here are a few of the ways antiques can help reduce your carbon footprint:
Reduces landfill When you buy a new piece of furniture, as soon as it leaves the shop floor, its value immediately drops to almost half. Whereas an antique, with its history and quality of craftsmanship, will hold or increase its value as the years go by. Antique furniture was hand made from properly seasoned timber, so the need to replace due to damage is minimal… compared to the average 15 year cycle of modern pieces. So where landfills are full of modern furniture from a well-known Scandinavian furniture giant, antiques are cherished in the home, kept in the family or re-sold.
Reduces carbon emissions, Although many modern furniture makers are paving the way for a greener future, there are still many who mass produce pieces in large factories, often overseas, with large CO2 outputs. In 2010, LAPADA and other trade bodies commissioned Carbon Clear to produce a study that tested the difference in level of emissions between modern and antique furniture. It was a thorough study, which took into account a range of factors including raw materials, manufacturing, transportation and disposal. The findings were alarming; a new chest of drawers will have a carbon impact up to sixteen times higher than an antique chest of drawers!
Supports local business. With so much of the UK retail sector now being online, many high street shops are being boarded up, and we are losing a sense of community. Antique dealers are local independent retailers in a high street threatened by the big chains. Many of these dealers, whilst still maintaining a good web presence, have kept their physical shops. They are aware that it's essential to have a gallery or showroom space for customers to come and view their potential purchases.
Preserves our heritage for future generations Antique furniture creates a wonderful picture of the period from which it was made, reflecting social history and domestic lives. The varying styles and methods of manufacture are a window to the past, whether it is a Georgian commode for the bedroom or a butler's tray for the dining room. The genius of a Chippendale design still influences designers to this day.
They make you happy! In addition to being good for the planet, antiques are good for you too: ever stroked the silky patina of an early oak coffer? Smelt the lingering scent of turmeric from a William & Mary spice cabinet? Admired the perfect proportions of a Georgian bureau? There is no greater pleasure – and when you are lucky enough to cherish an antique in your own home, this is something that you can experience every day.
This post was originally written by LAPADA member Thakeham Furniture on their blog.