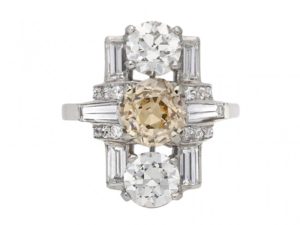 As the current twenties are off to a rocky start, we thought we'd take a look back at The Roaring Twenties and the fabulous jewellery they produced. This was a decade of economic prosperity and unprecedented freedoms in the Western world. People flocked to the cities from rural areas and with new technologies being invented, such as the radio and automobiles, it can be looked at as the start of the modern era. Everything seemed to be possible! Following the devastation of World War One, there was a move away from the previous sumptuousness of the Edwardian period and more unorthodox materials were being used along with a complete overhaul of style. Platinum became the metal of choice, not only because of its novelty, but also the crisp look lended itself very well to the new linear styles.
Where delicate patterns and motifs such as bows and foliate had been very much in vogue during the Edwardian era, the 1920s saw a move towards clean lines and bold looks, although nature still provided inspiration for much of the first half of the decade. Women were granted the vote and were experiencing greater social freedoms. From this, the iconic flapper look was born and the jewellery they chose to accompany this style was similarly modern and exciting.
The emancipated woman did not veer towards the sentimental designs of the past, instead opting to showcase bold new styles. Shorter bobbed hairstyles were very much in fashion and led to a surge in the popularity of drop earrings. Plunging necklines called for long necklaces and short sleeve, or indeed sleeveless dresses, allowed an array of bracelets to be displayed all up the arm. Less was definitely not more!
The introduction of cocktail parties into society created a need for a new style of ring, thus the cocktail ring was invented. Large central stones and pavé set diamonds made for a dramatic look and were suggestive of the mass consumerism that had taken hold of big cities in the Western world. These rings were worn to draw attention when women were drinking cocktails in illicit speakeasies during prohibition.
Jewellers saw themselves as artists and the Cubist movement had a great impact on jewellery design in the 1920s, and this influence is seen in the clean linear lines and angular features. The use of monochrome looks comprising of diamonds and onyx sat alongside bold colourful pieces, which made the most out of more unusual gemstones, such as coral, lapis lazuli and aquamarine.
The decade ended with the collapse of the stock market in 1929, which led to the Great Depression. However, the craftsmanship and bold aesthetics live on through the jewellery today. We have many pieces of jewellery from the Roaring Twenties available from LAPADA members online.
This post was originally written by LAPADA Member Berganza on their blog.