Antique tea caddies and boxes come in all shapes & sizes and are made from all manner of materials from exotic timbers to horn, ivory & tortoiseshell. Our fascination with them is due to their sheer complexity and their links with history and fashion. We can't help but want to peek inside when we see an antique box. When opening it, we want to see what stories could it tell.
Some boxes were commissioned for kings & queens and were made by cabinet maker firms who held royal warrants for their skilled craftsmanship. Now these beautiful time capsules are admired by us all and are still used by many today. Some have been altered for more practical uses to suit our modern world such as to hold jewellery or to keep that precious tablet or phone.  Antique boxes will outlast any modern equivalent, not only because of their superior quality and craftsmanship, but also because the timbers and materials used 100 & 200 years ago are not available today. So next time you're thinking of a practical gift, think boxes.
One of our specialities is tea caddies. My passion for these came whilst doing an apprenticeship for a restoration company. As part of this apprenticeship, I attended High Wycombe Furniture College to obtain my certificates for cabinet making. One lesson on French polishing used a tea caddy for demonstration. After the lesson, I asked if I could purchase it, and I'm pleased to say it went home with me that day for the grand sum of £5.00. Now I've got the bug and thirty two years later that bug is stronger than ever…!
Tea has a great history with the British, and the elaborate objects made to store it hint at just how expensive this commodity was. Because tea was so expensive, tea caddies were made by top cabinet makers of their time with skills that are almost extinct today.
If you are collecting antique tea caddies, silver or art, do your homework. We recommend going to antique exhibitions where dealers are only too happy to share their knowledge with you. We also recommend specialist dealers, particularly members of a trade association, as they know more about pieces than a general dealer. Building a friendship with a dealer can be very beneficial too, not only for your pocket but you'll also be shown those pieces that always seem to be snapped up by other collectors.
This year we have seen a increase on tea caddy collecting and boxes in general. We always say buy the very best you can afford.
Tea caddies with makers labels are very rare, so if you see one, snap it up. Thomas Chippendale, Henry Clay, George Seddon, Gillows, Edward Holmes Baldock, H. Spencer, and Robert Wright are some of the leading Georgian makers.
Victorians were much better at leaving Cabinet makers and retailers marks on their items. Makers & retailers to look out for: Betjemann, Lund, Asprey, Thornhill, Mappin & Webb, William Comyns, Jennens & Bettridge, Spier & Son. etc
Here are a few of the types of caddies you will come across, along with my advice for what you should look for in each
Boxes with complex shapes, fine inlays, exotic veneers and silver
Boxes with makers marks will always be desirable. Colour, patination and original untouched condition in particular Georgian pieces are highly collected.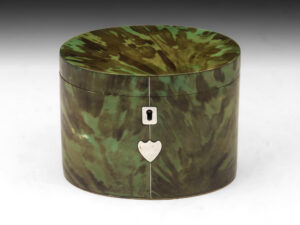 Tortoiseshell tea caddies
Complex shapes are more costly, and if they are pressed or inlaid with silver they are highly collectable. Red & green stained tortoiseshell is very rare and sought after. Their shapes are mostly simple, but their colour makes them highly collectable and stand out in a collection.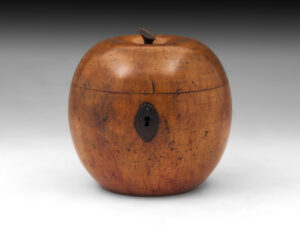 Tea caddies in the form fruit
Fruit tea caddies are and have been very sought after. They are all continental and all made of turned out sycamore. All will have cut steel hinges, locks and escutcheon with a simple lock and key. As these caddies are highly sought after, the market is flooded with fakes. Buyers beware..!
Apples & pears are the most common, with melons and then pumpkins being much rarer. In most cases the latter two are more than double the price of an apple and pear. Any damage or repairs to these seriously affect their value – pay particular attention to the front and the back of the hinge. Colour and patination is everything when it comes to purchasing these wonderful fruit caddies.
Once again do your homework and buy the best you can afford. Exhibitions are great places to meet dealers where you can seek good advice about collecting and what to collect. Browsing dealers' websites is another super way of doing homework, and don't be shy to send an email or sign up to their newsletters.