The Orkney Chair is probably one of the most iconic pieces of Scottish vernacular furniture. Now highly collectable (with examples at the Victoria & Albert Museum), Orkney chairs were originally made with a very practical design.
The chair style that we know today was standardised in the mid-19th century by David Kirkness of Kirkwall. It is assumed that a straw back was used in the Orkney, Shetland and Fair Isles as no trees are able to grow due to the extreme weather conditions. The earlier examples usually have frames that are made from driftwood, which was gathered from the coastline.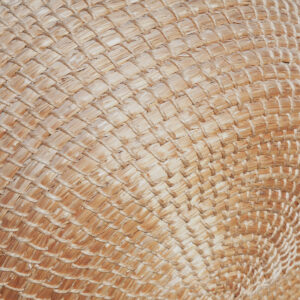 The making of these chairs is a very sophisticated and time-consuming process. Firstly, the back consists of a coil of straw – which is one continuous rope.
Marram or bent grass is used to tie the chair to the uprights of the chair. When the shaped back is being made, the chair maker would grab a fistful of oat straw which has been threshed differently than regular straw, to ensure the minimum amount of breaks in the stalks. Working with the straw the chair maker starts the process of coiling, winding and tying. The first row is held in place by nails and thereafter held in position by different types of sea grass.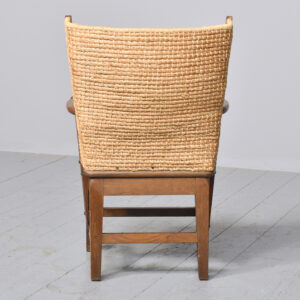 Some Orkney chairs have solid seats and others have woven seats made from marram or bent grass. Most of the earlier Orkney chairs had solid seats and often have box panels on the front and sides, to keep off draughts and reflect heat from the fire. On occasion, you do find Orkney chairs with a little drawer on the front or side. This would have been used for the storing of documents, or perhaps a bottle of whisky or a bible.
In Northern dialect the chairs are known as stuls (stools), and an Orkney chair with a hood would have been called a 'heided-stul', enclosed to provide further protection from draughts. The chairs range in size from children's, mid-sized, to large sized ones, and there are even the odd rocking versions.  So popular were Orkney chairs at the turn of the last century that Liberty and Co. retailed them in their shop in London. They asked the makers to put a slight curl at the end of the arm to stylise it a bit more, and this has become a standard feature on the chairs today. Even members of the Royal Family were collectors at the beginning of the last century.
Written by LAPADA member Georgian Antiques